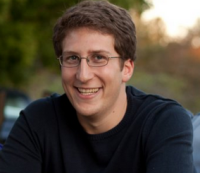 The author of this blog is me…Clay Schossow.
I'm a twenty-something entrepreneur living in Chapel Hill, NC.  Currently, I run a full service web design, development and marketing firm named New Media Campaigns.  The company has launched more than 400 websites in the past four years for clients ranging from public corporations to national non-profits to high profile political campaigns.  
We're currently preparing for the public release of our first product, HiFi, a Content Management System for designers.  At NMC, I focus on business development and marketing, client management, and day to day operations. 
I co-founded the company in 2006 with three other classmates while we were attending UNC-Chapel Hill.  I graduated from UNC with a double major in Advertising and Political Science.  Since graduating, I've spoken at the university many times on entrepreneurship, new media, and marketing.
When not working, I enjoy traveling to cities, watching movies, reading (especially newspaper and magazine articles), partying, running, and playing basketball. I love meeting new people, so please feel free to email me with questions or opportunities.
This blog is just a very part time gig compared to my full time job of helping run NMC, so it may go without update for weeks at a time, but I'm making a concerted effort to get better at regularly posting.
Some places I've been mentioned/listed/quoted: